ANDERSON'S SOUTH SHORE RESORT
Reservations
Making a reservation is easy! Simply give us a call or email and we'll help you choose a lake home for the dates you'd like. A deposit is taken with a credit card or check payment at the time your reservation is made. Deposits are half down upon booking. Balance due upon arrival.
Check In-Out
Please check-in after 4:00 PM and check out by 9:00 AM.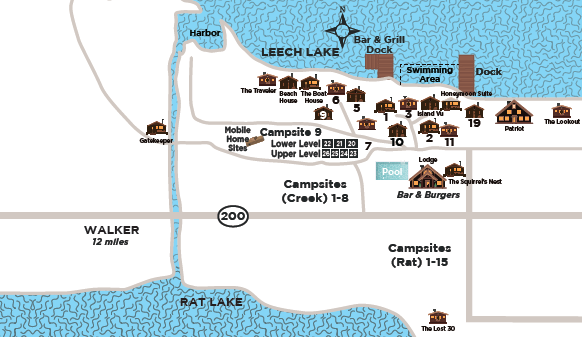 Accomodations & Amenities
At Anderson's South Shore Resort you'll enjoy the classic tradition of the Minnesota cabin resort. Our accommodations offer modern comforts with the legacy of vacationing from days-gone-by.
Choose from one- to 8 bedroom Minnesota cabins or two- to four-bedroom condominiums. Each cabin is well-spaced with a lake view, parking space and grassy area for picnicking, pets, and bonfires. Each unit is:
Fully equipped kitchens, baths; including bedding
Furnished
A/C and TV equipped
Decks or screened porches
Lake views
Grills and fire pits
When you call for reservations, we welcome any questions you may have so we can make sure to choose the cabin/s that will fit your needs and desires to the best degree. Enjoy a wide array of amenities at Anderson's South Shore Resort!
Heated pool and sandy beaches
Restaurant/lounge
Game room
Full harbor with services
Free paddleboats, canoes
Boat/motor and pontoon rentals
Lodge/gift shop
Wi-Fi internet access
Daily activities for children and families
Cabin Rates
Find the rates for each cabin below. They are organized by room capacity, the rates are the base rate per cabin. Please note there are additional rates for extra people, pets, children, and more. See the additional rate information below.
Please Contact Us With Any Questions
Available cabins with a 3-5 Person Capacity:
Available cabins with a 6-8 Person Capacity:
Additional Rate Information
Extra Person in Cottage – $150.00 per week – $30.00 per person per night (15yrs. +)

$125 per week per person (6-14 yrs.)

Boat/Motor Packages vary. Contact the office for more details

Pontoons $250.00 per day – $1400.00 per week

Paddle Boats/Canoes available (free to guests)
Pets (On leash/registered at lodge) – $30.00 per day or $150.00 per week per pet

Harbor – includes ramp/electric – $25.00 per day – $150.00 per week

RV Sites – Seasonal RV sites available only

Guides/Launch Charter Available, Fish Cleaning & Freezing also available

Please bring your own personal towels
Cancellation Policy
We are a small, independent business; cancellations affect us greatly. If in case of emergency, you have to cancel your vacation, your deposit (less 50% fee) is refundable if we are able to fully re-rent your lake home. The deposit applies to the last day of your reservation.
Vehicles
For lake view cabins, please do not park cars where they obstruct the view.
Pets
Dogs are allowed in all guest homes! Pets must be leashed.